Our History of Growth in Central Pennsylvania
D.M. Bare and Roaring Spring Blank Book Started It All
After moving to Spang's Mill from Sinking Valley, company founder, Daniel Mathias Bare, along with John Eby and John Morrison, begin construction on a paper mill in the summer of 1865. Operations started just under a year later, but a disastrous boiler explosion and fire caused the mill to be rebuilt. Paper production resumes in the spring of 1867.
A year later, the town name changed from Spang's Mill to Roaring Spring. These humble beginnings are the foundation for the industry that was to become Roaring Spring Blank Book began. By mid-1887, the first product under the company's new name is completed; however, in September of that same year, a neighboring fire spread, destroying the rebuilt plant and machinery.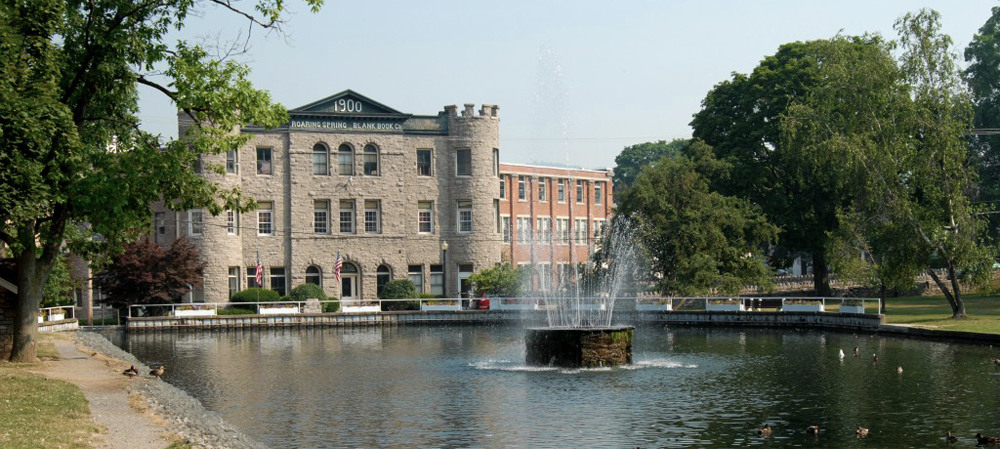 Third Time's the Charm: Continued Growth
The year 1888 saw a new, two-story brick structure erected and paper production recommenced. With continued growth, by 1900 a new three-story native limestone structure is built to house the growing paper business at Roaring Spring Blank Book Company. When company founder, D.M. Bare, passed away in 1925, the Altoona Mirror had this to say:
The life of Mr. Bare and the history of Roaring Spring are synonymous. To relate the story of one is in reality the history of both for the life and successes of the first citizens of the town are so closely allied with the founding and growth of the borough that it is impossible to mention one without thinking of the other.
Paper: New Leaders and New Growth
Roaring Spring Blank Book, continues to succeed in the paper industry with a succession of new leaders over the years. It enjoys new growth to where, by 1963, an additional 40,000 square feet of warehouse space is added to the Roaring Spring plant. In 1964, Spring Cove Container begins operations. By 1977, entry is made into the mass market after purchasing a majority interest in Educational Aids, Inc. In 1980, Roaring Spring Water begins operations. Less than a decade later, the paper company celebrates its 100th anniversary in 1987.
The historical significance of Roaring Spring Blank Book is affirmed by HAER (Historic American Engineering Record), and by 1990, the company begins transferring paper production to a larger plant in Martinsburg, PA. One year later, marketing opportunities expand thanks to college bookstore sales.
Award-Winning Achievements
Roaring Spring Blank Book Company is inducted into the Blair County Business Hall of Fame in 1993. In 2002, the company receives the Alexander Notopoulos Award, recognizing it as one of the outstanding industrial firms in Blair County. Ecological interest led to the award of a state grant in 2010 to fund the BioFuel project, which turns waste into usable fuel cubes as a ready energy alternative to coal. In 2012, Roaring Spring Paper Products celebrated its 125th year in business, and we are still growing strong.
We put our history to work and take pride in the products we produce every day. Roaring Spring Paper Products is proud of our strong company history of innovation, growth, and providing consistent quality to our customers all across the United States.
Continued Commitment to Social Justice