Custom Imprinted Products

Get the products your customers want,
with your school or company's brand on the cover!
Roaring Spring Paper Products can imprint your logo on a wide variety of notebooks, folders, journals, engineering products, music books, blue books and planners. We offer many product sizes, ruling patterns, paper types (15lb, 20lb or 20lb recycled), and cover materials in over 30 colors. We offer traditional foil stamping as well as digital 4-color process printing. The possibilities are endless!
Check out pages 15-23 of our catalog for more information, or contact us at 814-224-7460 or orders@roaringspring.com. We're happy to answer any questions you have and assist you in creating a product that will "wow" your audience.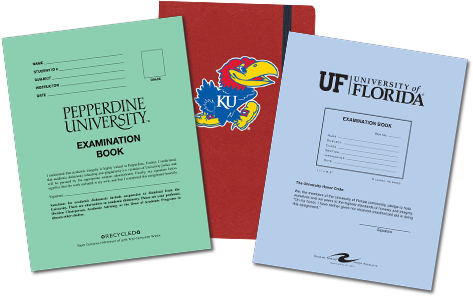 Looking to buy a paper product to show your school spirit?
All of our custom imprinted products are sold by the bookstores at each school. To buy products supporting your favorite school, search the school name and "bookstore" in your browser. Most student bookstores sell all of their merchandise on their websites, and some even offer free shipping. It's the perfect solution for prospective students, newly admitted students, proud parents and alumni alike.