LABBK W/CARBONLESS SIDEBOUND 11"x9.25"
Item # 77645
Paper Color: White
Lab Notebook
50 sets of yellow/white 15# paper
Carbonless paper included
50 Numbered sets
Stapled and Taped
Sheet Size: 11" x 9.25"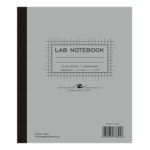 This book is ideal for use in labs and science classes. The 15# paper has a white original sheet and yellow copy sheet. The top white sheet is printed with 4 square/inch graph layout, and the canary sheet is unprinted. The book includes sheets of carbonless paper that can be removed and placed between the white and canary sheets. Sets are consecutively numbered 1-50 The front covers is made from durable 20 pt grey pressboard, and the back is 30 pt grey chipboard. The book is stapled and taped along the 11″ side. There are 50 sets per book. Proudly made in USA!
| | |
| --- | --- |
| Binding Edge | 11" |
| Binding Style | Stapled and tape bound |
| Cover Colors | Grey |
| Cover/Back Material | Genuine Pressboard |
| Numbered? | Yes |
| Paper | Carbon Paper |
| Paper Color | White original with yellow copy |
| Perforated Sheets? | One color is perfed |
| Pockets/Dividers | None |
| Punched/Unpunched | Unpunched |
| Ruling | 4 x 4 graph |
| Sheet Size | 11" x 9 1/4" |
| Sheets per book | 50 sets |